National College Decision Day!
On May 1, National College Decision Day, Lodi High School concluded Career Week by letting students represent the college they're going to by wearing a T-Shirt from that school. At nine o'clock that Friday morning, guidance conducted a college panel that answered general questions that students had about college life. The panel embodied a number of college representatives including Julian Gomez from Ramapo College, Miosotis Hernandez from NJIT, Amanda Basile from Montclair University, Carlos Cano and Melissa Zolla from William Paterson University, Kodi Milde from Fairleigh Dickinson University, Michael LaPorte from Johnson & Wales, and Julia Delbagno and Nicole Cibelli from Bloomfield College. Their advice encompassed bringing XL twin bedsheets, laundry bags, flip flops for public showers, and a community attitude to "move-in" day. Something all seniors should know for college is that rather than buying super expensive college books that you're never going to use again afterwards, buy E-books, used books, or even get them online.
Once you're admitted, it's best to visit the student checklist on the college's website to see what the to-do's are for freshman year. Even though your first year can be scary, joining different clubs and getting involved really help to break that social awkwardness of your first semester. In high school, your guidance counselor is typically the one who makes the appointment with you; but in college, make sure you make an effort to go to your academic advisers and see where you stand. Also, making a connection with your professors can really make a difference if you have a 89.9% in that class and want to boost it up that .1% for honor roll. After the general panel, at ten o'clock, the college representatives sat with individual students and answered specific questions. Later in the day, during the lunch periods, seniors had the chance to write down their name and post-graduation plans on a note card for decoration. College is not only an education, but an experience! So, study abroad, take advantage of programs, take different classes, don't be afraid to ask questions, and enjoy your years there before you wish you could go back!
About the Contributor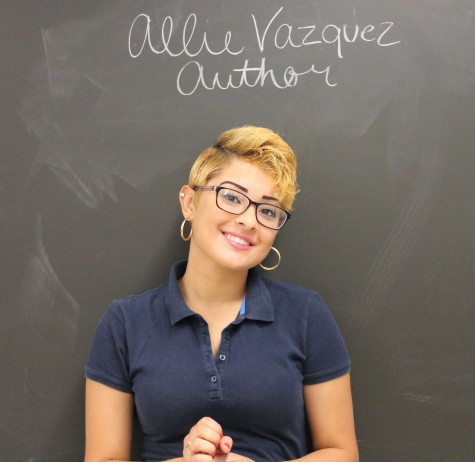 Allie Vazquez, Editor
Q: What are some of your favorite hobbies?

A: Acting, singing, playing musical instruments

Q: On a typical day, what do you do after school?

A:...