Athlete in the Spotlight: Emily Monje
LHS freshman, Emily Monje, participates in Jiu-Jitsu, a sport we don't hear about often at LHS. Monje is on Notourious MMA and won a match at the Monroe Sports Center. Her coach told her about this match and thought it would be perfect for her because of her aggression. Emily had second thoughts about participating in this match but her coach and peers encouraged her to compete. Her coach led her in the right direction as she has won a gold metal against a 25 year old while only being 14 years old. In order to learn more about this incredible achievement, the Rampage did a Q & A with Emily.
Q: Who inspired you to do Jiu-Jitsu?
A: I was getting bullied and wanted to learn self defense. 
Q: How long have you been doing Jiu-Jitsu?
A: I have been doing it for 7 months going on 8.
Q: Who inspired you to do the tournament?
A: My peers were aggressive and I saw how they won so I wanted to start doing it too.
Q: How did you feel before and after the match?
A: Before the match I was nervous. During the match my opponent striked me and scratched me. Then, my adrenaline pushed me to win. After the match I was happy and crying tears of joy.
Q: What was going through your head throughout the match? 
A: To do what I was taught and to stay calm.
Q: How did it feel to win against a 25 year old?
A: Great! I was happy and emotional. I was so proud of myself being 14 and winning against a 25 year old. I felt special.
Q: How do you feel this will prepare you for your future matches?
A: It shows me that if I believe in myself I will be able to do whatever. It doesn't matter about winning or losing, just do your best. I have the passion in me to keep striving and getting the gold metals.
Congratulations Emily on your win and big accomplishment!
About the Writer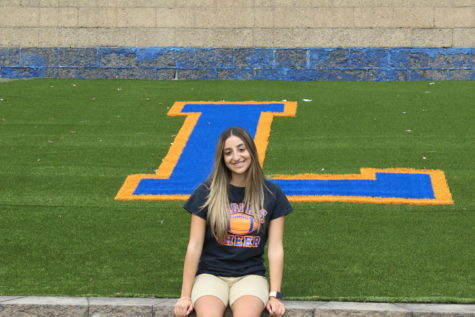 Melissa Hartofilis, Writer
Q: Do you think LHS was a good choice as a high school or would you rather be somewhere else?
A: LHS was a good choice because I have a lot of friends...