Alumni Panel 2022
Now that college applications have been completed, seniors are now hustling to find a match and commit to a college as their high school journey begins to end. But, committing to a college can be very difficult. Many seniors find themselves lost in the middle of so many questions. Which major am I sticking to? Am I going to commute or dorm? Which scholarship seems better? Should I go out of state or in state? Should I go to a private or public college? These are just the beginning, there is still so much students want to ask but don't know who to ask. 
Who better to ask than your very own alumni of LHS. These young adults went to Lodi High School students just like you. Now graduates of LHS and their desired college, they are working in the careers they love. This year being the year it is, the alumni panel was held virtually. Mrs. Dorfman, one of the LHS guidance counselors, hosted the event. The alumni in attendance were from the graduating classes of 2010, 2013, and 2014. These individuals included Milosz Blyszczek (Class of 2010), Shaym Sharma (Class of 2013), Mika Alcala, (Class of 2013), and Nina Russo (Class of 2014). These four amazing people gave the LHS seniors of 2022 tremendous advice. The alumni discussed topics such as majors, college finances,  dorming vs. commuting, choosing a major, private vs. public schools, and so much more! The majors presented included a variety ranging from business, healthcare, accounting, and science. The alumni panel of 2022 was definitely one to remember for those who attended because it provided so much valuable information that you would otherwise never know until you went through life experiences that taught you such. Make sure to stay updated and be on the lookout for more events like this in the future to get the best knowledge about college!
About the Contributor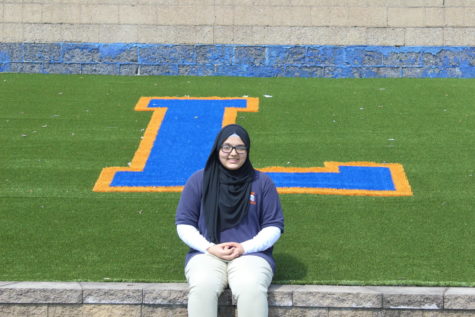 Eisha Iman, Writer
Q: What would you say is your biggest goal for senior year?
A: For senior year, I want to have a GPA of above a 4.0. Also, I overall want to be one of...