Dom Salvatore Making H15tory
Lodi wrestling hosted Fair Lawn on Jan. 30 but all eyes were on senior Captain, Dom Salvatore. This was a special night for him as he was wrestling for his 100th career win. Before the match I spoke to Dom and asked him how he was feeling about the match. "I'm a littler nervous because I'm going against the former district champ but I am going to go out there and wrestle like I always do." That's exactly what he did. Dom defeated Fair Lawn's former district champ 9-0. The crowd and both teams gave Dom a standing ovation. After the win, Athletic director Pat Tirico and wrestling head coach Mark Maggio presented Dom with a plaque that honors his achievement. I got the chance to speak to Dom after his 100th win: "I'm happy that I got that 100th win out of the way. Now it's time to worry about more important things like Districts and Regions." Dom's teammate, Sophomore Chris Caban shared his thoughts on the victory: "I knew Dom was going to win. He's been waiting for this day since freshman year so we all knew that once he got the chance to wrestle for his 100th win, he was going to get it." Dom has had a good high school career and it's not even over. He recently committed to Johnson and Wales University to continue his wrestling career. Congratulation, Dom!
About the Contributor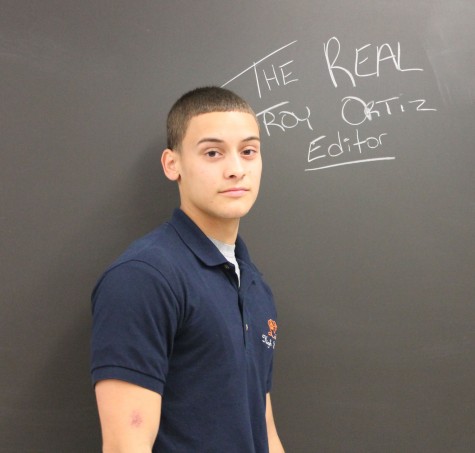 Troy Ortiz, Editor
Q: What are your hobbies?

A: Baseball, eating, working out, and hanging out with Joey.

Q: What do you plan to do after high school?

A: Go to college...