Valentine Schmalentine
Valentine's Day is typically seen as the day of love, flowers, and chocolate. If you ask a couple who's in the "honeymoon stage," or those in love and they'll simply blush and say they can't wait for February 14 to arrive. Many people may agree with this sentiment; however, there are those who hate this holiday. If you are not anticipating Valentine's Day, it is important to remember this holiday isn't just for couples to show how much they love each other! It's for people to show how much they care about a relationship and any relationship counts; whether it's your mom, sibling, close friend, or maybe even a pet, it's time to celebrate any type of love! So if you're a Valentine's Grinch don't fret, you're not alone! Here are some tips on how to make this holiday fun no matter what the situation!
Have a movie night with your friends. Curl up on the couch, and eat some popcorn with close friends. Pop in a classic or a horror film, whatever you're in the mood to watch.
Go out and eat pizza. Everyone loves pizza. Pizza is the way to the heart.
Play with a beloved pet. Pets can reduce stress and anxiety so why not just play with one and make this holiday fluffier and cuter.
Do some shopping. Looking good can make you feel good. Buy a new shirt, bag, or style your hair in a different way than usual.
Eat lots of chocolate. This day was made for chocolate, so give in a little and replenish your sweet-tooth.  
Write Valentine's for close friends. Seriously, this holiday is for any type of relationship out there. Tell someone how much they mean to you.
Dance party! Blast some music and dance your heart out to combat the blues. Artists love this day for inspiration for a new hit, so enjoy it!
Curl up with a good book. Prefer to stay in? Buy a new book and just curl up with some food and blanket and enjoy it.
Have a family dinner. Family is super important and should be appreciated all of the time. Gather the whole fam and just talk and catch up.
Do something spontaneous! This holiday can be made 10 times better by just doing something completely out of the ordinary! Do something crazy, like sky diving! Or, maybe something less extreme, like trying out a new sushi place.
However you choose to spend this controversial holiday, enjoy it! Everything is what you make it!
About the Contributor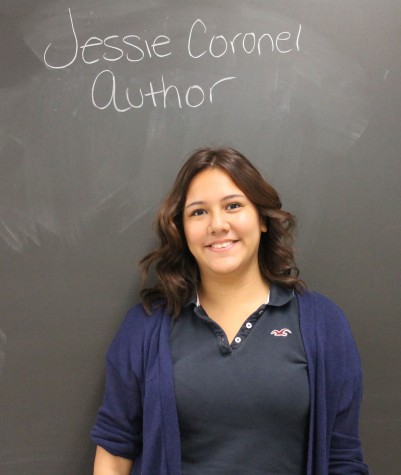 Jessie Coronel, Author
Q: Tell me five things that define Jessie

A: Dogs, history, hair, purple, and friendliness

Q: If you were part of a salad, what part would you be?

A:...