Netflix's Overnight Sensation: Squid Game
Hwang Dong-Hyuk was hit heavily by the socioeconomic issues occurring in his home country of South Korea. At the time, Hwang was attempting to provide for his mother and grandmother, all while continuing his career as a young screenwriter. He used his current circumstance as inspiration to write a script that tackled the current state of South Korean capitalism in a way that was violent and grotesque. Now, almost ten years later, that script has become the basis of one of the most talked about shows of all time. Netflix's Squid Game grossed an estimated $900 million USD a month after its release and was a critical and commercial success. To many viewers, the show's sudden rise to cultural phenomena seems unprecedented, but there are certain patterns in place that reveal the popularity of a television show of this nature being inevitable. 
Netflix has noticed that over the past few years their viewership outside of the U.S. has only grown bigger, thus more money is being put into foreign language projects that could potentially become hits overseas. Hwang was a clear choice for Netflix, as he has built up his status with past films such as Silenced and The Fortress performing well with South Korean audiences. Hwang brought Netflix's attention to the original vision he had for Squid Game, which they quickly picked up, seeing its potential through the unique ideas it presented. He was then told to rewrite his film script into a nine part series with the confidence it would spread widely among Asian regions. What they were not expecting was for the show to become a hit internationally, reaching the number one watched program in 94 countries, and becoming Netflix's most popular show of all time. It has even surpassed shows like Stranger Things and Bridgerton that previously held the title. This is large in part due to how widespread and accessible Netflix has become. With their platform, Squid Game was able to reach hundreds of millions of homes. It also helps that the show was released with subtitles in 37 languages and dubbed versions in 34 languages, giving the show the ability to reach over language barriers. The localization that Netflix provides allows the series to be easily spread through word of mouth. This is especially important for foreign language films, as without that level of accessibility most viewers are not likely to seek out international properties. 
Why Squid Game though? Netflix has countless shows in their catalog at this point, many even coming from foreign countries, why has Squid Game risen to the top? At the time, when Hwang was writing his original script for the show, he was nervous that people would dismiss the idea because it's story was "too difficult to understand."  Luckily, Hwang's judgement was proven wrong; and when analyzing the story and its characters a bit further, it becomes clear why it has resonated with so many people. The contestants of the Squid Game are all, in some form or another, withstanding harsh conditions in their lives and are desperate for money. For example, the main character, Seong Gi-Hun, is an unemployed gambling addict whose life is being threatened by a group of loan sharks. Through his money struggles, he also must manage being a divorced father and taking care of his elderly mother.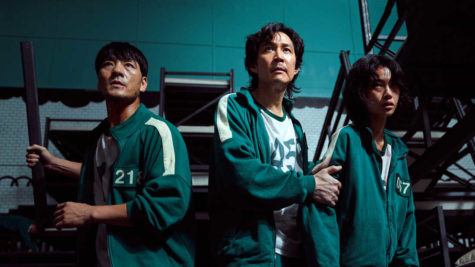 His character, and many others in the show, serve as a representation of the lower class, and are emblematic of the current economic crisis in South Korea. In recent years, the poverty rates in South Korean communities have skyrocketed, and most of the middle class income bracket has dissipated. In the grouping of 35 economies that were analyzed, the OECD had placed South Korea as one of the highest poverty rates at 17.4 percent, second only to the U.S. at 17.8 percent. With this in mind, it is easy to see why so many people have related to the show. One of the main draws to the story is the idea of placing yourself in the position of the characters, and getting that sense of urgency through the life or death scenarios. This works best when there is a sense of relatability to the characters' actions, allowing their motives to feel justified. Everyone participating in the game was offered the option to leave, and early on in the show they are given the out, but out of the 201 survivors, 187 of them returned. For most of them, putting their lives on the line is preferred over the debt, illness, and family struggles that they would be returning home to. These issues are more relevant now than ever, with economic disparity being more global than it has ever been due to the pandemic. 
South Korean entertainment has been one of the most active outlets in exploring these issues, which may be why there has been such a push to shine a light on what is being produced in that region. In 2019, the film Parasite captivated audiences with its compelling story and characters that display a wide variety of emotions, blending genres, such as comedy, drama, and thriller in a masterful way. The plot follows the Kims, a family living in extreme poverty, who compose a plan to deceive the wealthy Park family. They pose as qualified workers in order to be employed at their home and leech off their luxuries. The film was widely praised among critics and audiences alike, and was the first foreign language film to win the best picture award at the Oscars in 2020. Similarly to Squid Game, it critiques the current state of South Korean capitalism and class structures. It is an idea that is prominent in a lot of South Korean art, and so rarely explored in mainstream entertainment in the U.S.   
The popularity of Parasite mimics that of Squid Game, albeit to a lesser extent, and shows a greater trend in the rise of South Korea entertainment in the West. Whether that be K-pop groups like BTS and Blackpink gaining massive success internationally over the past few years, reaching global acclaim and building up some of the largest fan bases in music. There have also been other movies and shows (Train to Busan, Stranger, etc.) that have built up cult followings in the West. Pop culture has become so prominent in South Korea that it was even given its own name, "Hallyu," meaning "Korean Wave." In just one month Squid Game shot itself to the forefront of this conversation, hitting at just the right time and being a mark of the larger South Korean cultural movement.
The important takeaway from Squid Game is not just its message, but also how it has provided proof that there is money behind foreign properties. An emergence of international media in the West will open people up to new cultures and ideas. With South Korean entertainment in high demand, it is up to the production companies, like Netflix, to see the potential, and invest in fresh ideas outside of North America. Squid Game has already been greenlit for a season two, and, with award season on the horizon, it wouldn't be far-fetched to expect the show to go home with the proper recognition. The sudden popularity of Squid Game is a significant and historic occurrence for a foreign language property, but it should not be the last.
For more information, please visit:
https://martinroll.com/resources/articles/asia/korean-wave-hallyu-the-rise-of-koreas-cultural-economy-pop-culture/
http://www.koreaherald.com/view.php?ud=20200802000122
https://www.washingtonpost.com/arts-entertainment/tv/2021/10/08/squid-game/
About the Contributor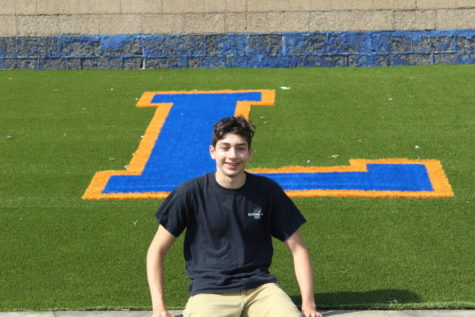 Giancarlo Messina, Writer
Q: How do you feel about senior year and the responsibilities of selecting a college?
A: I am definitely a bit nervous about the transition due to the...