A Guide to 2021 New Year's Resolutions
How to Succeed In Your 2021 New Year's Resolutions
Our 2020 year is quickly coming to a close. We can all agree that it has been a challenging year filled with many uphill battles. With the new year approaching, making resolutions to mold a better 2021 may not sound like a terrible year. Now you may be wondering how do you make good resolutions and even more, how do you stay committed to your goals? Fear not, The Lodi Rampage is here to give you tricks and tips to make 2021 the best year it can be!
How to make a New Years Resolution?

Did you know that nearly 165 million Americans say they are dedicated to making a New Year's Resolution? So, how do you join the masses?
What makes a good resolution?

You learn from past mistakes.

They motivate you to grow as a person.

You work towards being  the best version of yourself

What are common resolutions to consider?

Exercising more/ losing weight.

Better grades.

Focus on mental health.

Stopping a bad habit, for example- nail biting.

Learning a new hobby like card tricks or origami. 
How to stick to your New Year's Resolutions?

In nearly 50% of every generation, lack of self control is the driving force behind failed resolutions. So, how do you avoid giving in to laziness?
Try and find a buddy to keep each other motivated

Having someone to do resolutions with, like exercising or picking up a new hobby, can help you stick to them.  Not only can you use each other for motivation, but having someone to celebrate your victories can help make sure you stay committed to your resolutions for the New Year. 

Start small and be reasonable with yourself

Change doesn't happen overnight; give yourself time to start seeing improvements. Perfecting a new hobby or stopping old habits can not be achieved in a few days. Some resolutions may take months to achieve- and that's okay. The purpose of these goals isn't to have instant success, but rather to put forward hard work, and, with dedication, get a satisfying result.
Even the smallest changes push you towards large results

Simple things like deep breathing to help your mental health. Actions like going on a treadmill for 20 minutes to lose weight or even studying for just ten minutes to improve your grades are small decisions that help you reach your big goal. 
With 2021 approaching, it is a fresh slate to be the best version of yourself possible. Good luck on your New Year's Resolutions, and don't forget to check out the New Year, New LHS: 2021 New Year's Resolutions video where LHS teachers share their new year resolutions for the upcoming year. 
Sources:
https://www.finder.com/new-years-resolution-statistics
About the Contributor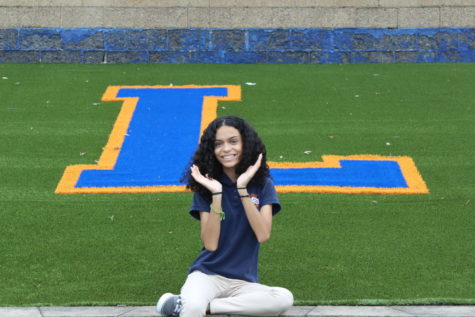 Ana Radojevic, Editor
Q: How do you want others to see you?

A: I want others to see me authentically.  I feel like I struggled for a long time to just me myself so now,...