Fast FAFSA Tips for Seniors
Monotonous: dull, tedious, and repetitious; lacking in variety and interest. This is the word that many seniors think of when they find out what filling out the FAFSA form entails. Whether this is the case for you or not, it is still a very important part of the college application process. Filling out the FAFSA form is the only way to see if you are eligible to receive federal loans for your choice colleges. With that being said if you are feeling a bit intimidated by having to fill out FAFSA, have no fear here are the top tips to view before filling it out:
Check out the link provided to access the checklist of all documents necessary prior to filling out the FAFSA -https://studentaid.gov/articles/things-you-need-for-fafsa/
Always be sure to hit the save button on your forms periodically so that if you ever lose connection or get time out, you do not have to restart the whole thing.
Don't rush through it, especially when it comes to choosing the colleges that you will be applying to for the Student Aid. Try to have your best, well-thought out list of colleges on the FAFSA form.
Here are some tips from the top FAFSA guidance counselor, Ms. Werlitz:
DO NOT procrastinate
 Be sure that you are filling out the 2021-22 FAFSA form and using 2019 tax information
Use this data retrieval tool to help save time and stress – https://studentaid.gov/help/how-use-irs-drt
Do not forget to list the colleges that you are applying to on your FAFSA
Do not forget to sign your FAFSA with the FSA ID you created. Your application will be processed within 3-5 days and then you should receive your SARs (Student Aid Report).
Check your E-mail regularly for any messages regarding your Federal Student Aid corrections (if any are possible).
Just be aware that your SARs will not tell you how much financial aid you will be getting. The colleges that accept you will send you the aid offer.
So with this being said, remember that if you are dreading filing out the FAFSA or are putting it off, please do not. Use your resources and reach out to guidance counselors or teachers at anytime. Schedule calls or Zoom meetings with Financial Aid officers or go sign up for our virtual online FAFSA day. This process may seem like something difficult that you do not want to do, but if you use the tools provided, it will make this all that much easier to push through!
About the Contributor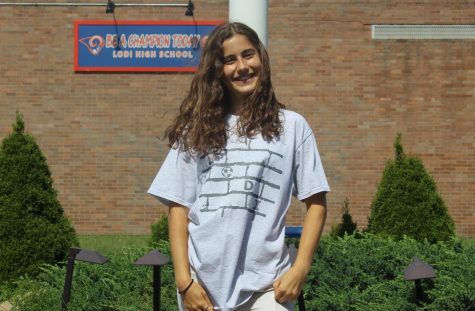 Brooke Scarcella, Writer
Q: What expectations/goals do you have for this school year?

A: I expect to do a lot of the fun things you get to do in senior year, and my goals are...