Caffeine and Creativity: Coffee House
On Nov. 6, 2019, Lodi High School hosted its first Coffee House of the year. Coffee House is an Arts based event in which students of all walks of life can sign up and perform. The night is used as a fundraiser for the band and choir and racks up an impressive headcount every time. The cafeteria is always decked out with sweets for the occasion, and tables with candles for dramatic effect. Furthermore, a stage is set up with seats, microphones, and a color shifting spotlight. The line up for this coffee house was incredible, with plenty of vocal and instrument based performances showcased throughout the night. This Coffee House in particular was special, as it was Mr. Porter's first time planning it. To get some insight into his experience, the Rampage staff asked some inquiries revolving around the event.
---
Q & A with Mr. Porter
Nick: Mr. Porter, were there any concerns or struggles with being in charge of such an event?
Mr. Porter: Not so much a concern but always a wonder of if people are going to show up. It was a plus to have a great turn out tonight. Also, for them to be able to show up and enjoy a night of live entertainment and art.
Nick: How do you feel the night went overall? Are you satisfied?
Mr. Porter: It seemed like everyone had a great time, and the hosts helped move everything along. Nothing was stagnant and everything moved well. There was lots of art and good things happening so yes, very much so satisfied.
Nick: Why do you feel people should attend the annual Coffee Houses?
Mr. Porter: I believe the Coffee Houses are a good representation of the kind of talent going on at LHS –talent from people you might not know. It is a great outlet for the students here and I think it is a very positive atmosphere. It has nothing but love and support for everyone and I think this is what makes taking part of this live experiences worth it.
---
In addition to this being Mr. Porter's first official Coffee House, it was also Wade Buchanan and Andrew Girgis's first time hosting. They created a fun and encouraging atmosphere that lasted from the opening all the way til the closing of the show.
Q & A with Wade and Andrew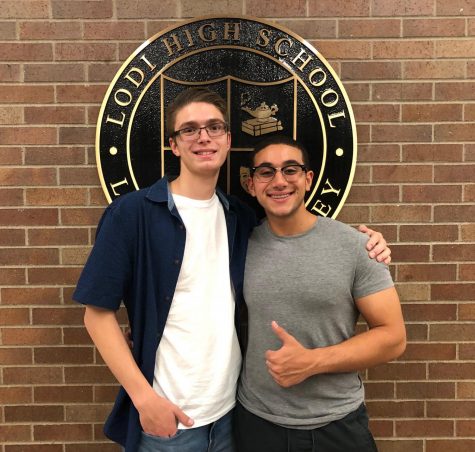 Nick: How was it like interacting with so many people?
Wade: Very great, man! I've done Coffee House before as an audience member but being up and hosting and helping the performers was great. Very worth it.
Andrew: Honestly, I was a little scared beforehand and I was not sure I was really prepared going into it. I was calm at first but once those lights came on I did get a little scared. I just wanted to make sure I kept the mood in the room calm and smoothly going.
Nick: Were there any hardships that came with hosting such a large event such as this?
Wade: I was just a little worried about time management. It kind of slipped away but I'm glad we got everything together. Another thing that happened was the fear of not being funny or anyone getting me, but in the end I understood that it was all about being yourself.
Andrew: Nothing too bad. I was really calm with any of the problems. I spoke with some of the previous MC's beforehand and they gave me tips and heads ups so that I would not be lost.
---
The annual Coffee Houses are not alien to newcomers, as students such as Perla Villacampa and Aaliyah Shoulders performed for their first times ever.
Q&A with Perla and Aailyah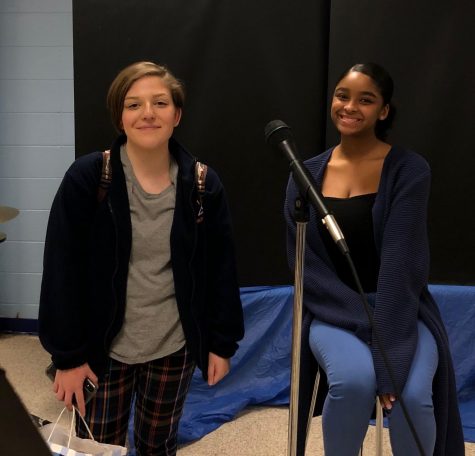 Nick: Have you ever gone to Coffee House before? What inspired you to perform on stage?
Perla: Yes I have! But I have not performed until now. I saw how confident everyone else was on stage and how supportive all of the people here were which made me want to perform.
Aaliyah: I have never been to Coffee House. I wanted to last year but then I told myself it was not that serious so I didn't.
Nick: How did it feel like to be on stage for the first time?
Perla: It was so much fun and I had a great time!
Aaliyah: I was nervous and shaking a little bit at first. But, then, after I started singing, I calmed down.
---
Over all, everyone made Coffee House a spectacular night. Everyone's contributions were noticed and praised, and will continue to be for a long time. A special thanks to Mr. Porter and the band for putting this night and fundraiser together.
About the Contributors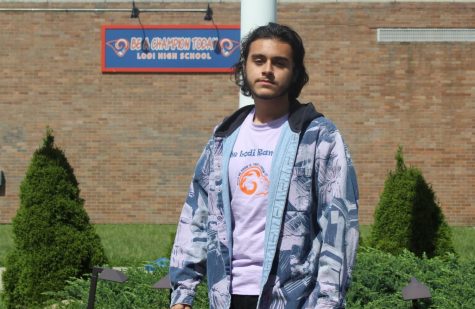 Nick Marin, Editor
Q: If you could have dinner with one person, dead or alive, who would it be and what would you talk about?

A: I would love to speak to Marilyn Monroe....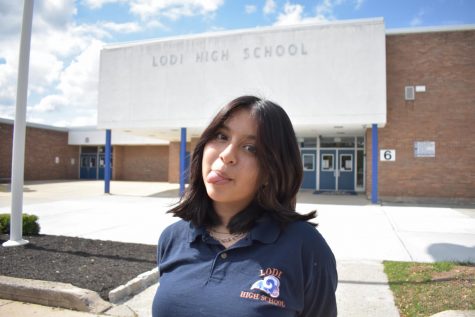 Karina Flores, Writer
Q: What is your main goal this year? 

A: To get principals list, get my GPA up, and get into  my dream college.

Q: How would you explain your fashion?

A:...