It Takes a Community to Make a Change… So, Let's Get to Work!
Homelessness in New Jersey
A new study done by Monarch Housing Associates has discovered that the number of homeless people in New Jersey has increased by 16 percent.
During 2014's  annual homeless count in New Jersey, on Jan. 28 in New Jersey, 13,900 homeless men, women, and children were tallied. This shows an overall increase of 1,898 persons from the count in 2013.
It is believed that the increase in the numbers may be due to people staying in homeless shelters due to the frigid weather conditions. In the years before, people would have most likely remained outside, which makes it difficult to tally them.
"We had a very cold winter and a very cold nights," an associate on the Ending Homelessness Team at Monarch said.
The executive director of the Elizabeth Coalition to House the Homeless, Linda Flores-Tober, said she has never seen such difficult conditions for the homeless in the past 24 years.
The coalition can place up to seven families in transitional housing and usually places one or two families at a time in a hotel until it can find housing. Flores-Tober said during this past winter the coalition occasionally had nine households in a hotel at one time.
She said most of the families needing assistance were making wages too low to afford New Jersey's high rents and that the bad winter added another layer of difficulty to the situation.
"We are working against time, money and now you're dealing with polar vortexes," Flores-Tober said. "It makes a difficult situation a lot more dire."
This winter is looking to be even worst than last winter, meaning that our unknown street residents will be encountering even harsher conditions. It is easy to overlook these human beings that for one reason or another have stumbled upon homelessness. We need to disregard the reasons for which they became homeless and stop making these people and statistic. It is inhumane to continue to ignore the living conditions of these human beings, regardless if they are drug addicts, war veterans or  unfortunate children, everyone deserves to have a safe place they call home and be protected from the elements.
There are many ways that we can help end homelessness. Underneath are some websites that will give more detailed information and provide options such as food and monetary donations and volunteer opportunities.
Remember: We all come from different walks in life, and sometimes we hit pebbles that trip us directly into deep potholes. Let's make sure that instead of closing the potholes, we figure out a way to make ladders and help the people out.
More information:
http://portal.hud.gov/hudportal/HUD?src=/states/new_jersey/homeless/shelters/bergen
http://www.humanneedsfoodpantry.org/
http://www.endhomelessness.org/
Source:
http://www.nj.com/news/index.ssf/2014/06/nj_counts_study_finds_16_percent_increase_in_homelessness.html
About the Contributor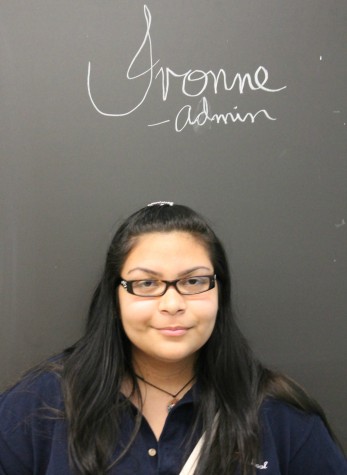 Ivonne Vides, Administrator
Q: What is your favorite book and why?

A: I have two favorite books: 100 Years of Solitude because it shows where I'm from and how the people are...