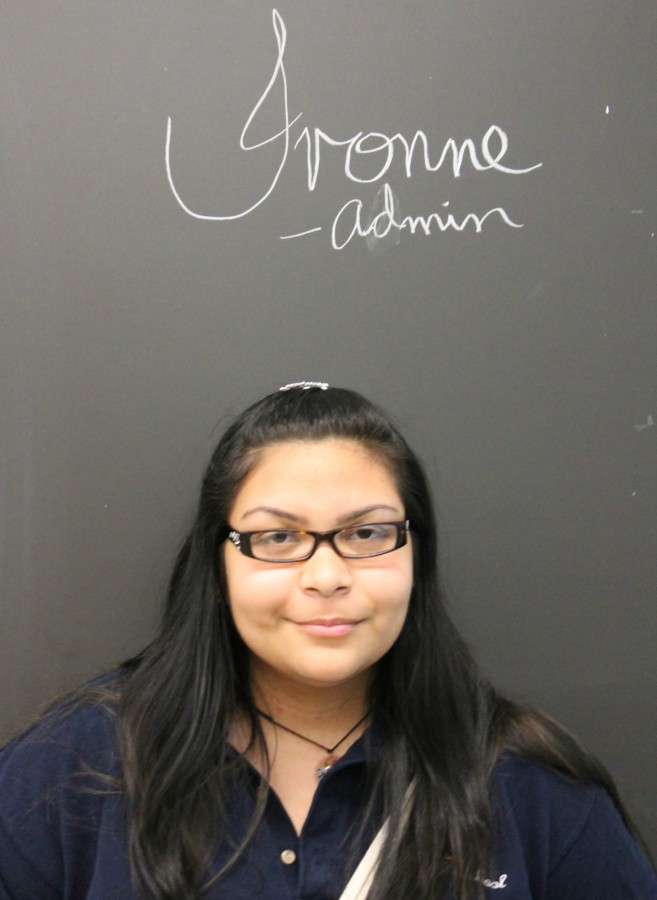 Q: What is your favorite book and why?
A
:
I have two favorite books: 100 Years of Solitude because it shows where I'm from and how the people are there; all events are fictional but they seem so real and personal. Also, A Thousand Splendid Suns because it was able to humanize war and people, and the details of the book are so relatable.
Q: Where are you from?
A
:
I was born in Barranquilla, Colombia. I moved to Lodi in 2008 at the age of 12 speaking no English.
Q: What are 3 random facts about yourself.
A
:
For me to wake up in the morning or pretty much get to doing anything, the time on the clock has to end in 0 or 5. I'm a secret slob, in public I'll look clean and neat but my room is a mess. I have a weird love/obsession for Shakira.
Q: What are 3 things you can't live without and why?
A
:
Number one would be my kindle. It's my window to a safe zone where I can laugh and cry and get mad, also the experiences are relatable: there could be a strong girl in a book or an attachment for a fictional boyfriend that I can relate to. Second is my mom, because I wouldn't know what to do with my life without her. And last but not least, my iPod, because I believe music is an echo of one's life, and my music definitely defines who I am.
Q: What college do you want to attend, what do you want to major on and why?
A
:
I really want to attend Fairleigh Dickinson University and complete their five year program. They offer a BA/MA Program for a major in Psychology and a masters in Clinical Social Work, which is exactly what I want to do.
Ivonne Vides , Administrator
Jun 17, 2015

Thank You For the Books

(Story)

Apr 22, 2015

Join the Fight Against the Stigma of Mental Health!

(Story)

Mar 30, 2015
Mar 19, 2015

A Visit Into the World of Mosaics

(Story)

Mar 18, 2015

The History of St. Patrick's Day

(Story)

Mar 05, 2015
Feb 10, 2015

Top 10 Classic Love Stories

(Story)

Jan 28, 2015

Dorian Monsalve: A Surrealistic Journey

(Story)

Jan 15, 2015

Tattoos: Allies of Individuality

(Story)

Jan 15, 2015

Help the Homeless…

(Story)

Dec 22, 2014

The Reality of Rape Culture

(Story)

Dec 11, 2014

What's Ceramics Class Up to?

(Story)

Nov 24, 2014

It Takes a Community to Make a Change… So, Let's Get to Work!

(Story)

Nov 13, 2014

New 9/11 Memorial

(Story)

Nov 13, 2014

2014 Environmental Awareness Challenge Grant

(Story)

Oct 12, 2014

Poetry: A Game of Words

(Story)

Oct 10, 2014

Purple Bracelets Supporting Domestic Violence Awareness

(Story)

Sep 25, 2014

LHS English Teachers' Favorite Books & Favorite Books to Teach

(Story)

Sep 24, 2014

Student Featured Art

(Story)