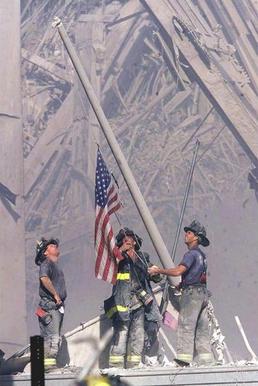 Introduction
Tuesday, September 11th, 2001. It was a sunny morning in New York City where millions of Americans started their days going to work and having breakfast, just like they would every other morning. The pride of NYC at the time was that of the World Trade Center, twin skyscrapers, each 110 stories capable of holding up to 35,000 workers and 430 companies. These offices would be filled with employees just like they were everyday, an estimated 18,000, just doing their jobs. However, tragedy would strike at 8:46 AM. United Airlines Flight 11 would crash into the North Tower between floors 93-99, a thunderous explosion could be heard throughout the city as news teams and emergency personnel responded to what they believed was a small aircraft crashing into the building. The people on the ground and in the towers had no idea what had just transpired and none could have predicted United Airlines Flight 175 striking the South Tower. America was under attack. 
Millions of Americans stopped whatever they were doing and turned on their TV's, watching as events unfolded. In addition to the WTC, the Pentagon was also hit, and another plane, Flight 93, crashed into a field in Pennsylvania after a valiant effort by the passengers to take it back from the hijackers. At the end of the day, America lost 2,977 people, lost the Twin Towers, and lost their sense of normalcy. But from the ashes, Americans gained something important: hope, unity, and determination. The message was clear: We needed to hold these attackers responsible… and we would. 
Aftermath of 9/11
Story continues below advertisement
The biggest direct event of 9/11 was the Global War on Terror. President Bush made our objective clear: find the coordinator of these attacks and compromise him to a permanent end. We would accomplish this goal on May 2nd, 2011. The US forces took down the leader of Al-Qaeda, Osama Bin Laden, after a near 10 year manhunt. This wasn't our only goal either; the US and allies took it upon themselves to prevent an attack of this caliber from ever happening again. The plan was stopping terrorism and maintaining stability in war-ridden nations by deploying troops to places in need of security. To this day, the United States and allies are continuing their mission to keep our world safe from terrorists and those who wish harm. 
9/11 also completely changed our domestic defense. With the attacks stemming from hijacked airliners, stricter rules were put into place with the Transportation Security Administration (TSA) being established to ensure no weapons or other illegal items could be brought aboard an aircraft. The Department of Homeland Security (DHS), which also manages the TSA and other agencies, was also an effect of the attacks. The DHS in conjunction with the Patriot Act allows for the government to have a better grasp at defeating terrorism and other threats domestically. 
9/11 also provided another lasting legacy; that of remembrance. In the sands of time, September 11th stands out like a diamond, and it has forever changed the course of the United States, and possibly the world. It is vital that we never forget that sunny Tuesday morning, for it left a lasting impact on our history. In memorial for those that died, NYC constructed the Reflecting Pools that bear the names of those that died in the towers, and constructed the new One World Trade, The Freedom Tower, to show the resilience of our Nation.
Closer to home however, we remember the alumni of Lodi High School that perished on that day. Their names, John Perconti and Angel Pena, are marked on two stones beneath the flag. May the memories of those that died never be forgotten and may we always remember that we are all Americans and we are stronger together.