The Trials and Tribulations of LHS Mock Trials
On Jan. 7, Lodi High School's Mock Trial team attended their first yearly competition. The club has been working tirelessly all year in order to prep for an amazing trial. Witnesses and lawyers alike practice twice a week in order to critique and help each other with their performances. With the help of club advsier, Mr. Tuttle, the members learn how to put together a great court case while gaining a thorough understand of their parts. The real trials occur three times in January, on the 7th, 8th, and 14th.
---
Background Story of the Court Case:
Charlie Quinn, a recent graduate of Metropolitan High School, gathered around with some friends in an area behind his past job. This area was run by Lew Olden, an old employer of his. One of Charlie's friends, Kal Simpson, who has an irrational fear of dogs, was also attending the party. During the night, a dog appeared on the property and began to bark at Kal Simpson, triggering his trauma. This prompted Charlie to intervene and strike the dog across the head with a bottle. After these events, the dog soon died and was revealed to be McGregor, Officer Murray's police dog. The court case revolves around whether Charlie should be charged for killing a service animal or not, regardless of if he was aware or not?
---
The competition on Jan. 7 was against Indian Hills High School, who played on the side of persecution. Lodi brought their best efforts to the stand, with lawyers Luis and Maecar debating for the defense. The witnesses Charlie Quinn (Nick Marin), Kal Simpson (Vivian DeLaPaz), and Doctor Mel (Juan Daniel) also brought their best efforts to the table, managing to create strong cases for their side. Afterwards, Lodi played defense against Northern Highlands High School on Jan. 8, fighting harder than ever to prevail in the courtroom. This time, the lawyers were Chyenne Ward and Kristel Danan in tandem with witnesses Lew Olden (Jasmin Marrero), Officer Murray (Domenica Solis), and Doctor Carlin (Vivian DeLaPaz), who endured an admittedly tough trial. Last, but not least, Lodi attended their final meet on Jan. 14, playing the part of defense, yet again. Going against Fair Lawn, Lodi fared very well, pulling through with a win and impeaching opposing witnesses. The final meet was a moment of victory of the LHS Mock Trial Meet!
Mock Trials will return next school year with a new case at hand and another strong team!
---
Full List of Club Participants:
Defense Attorneys: Luis Duarte and Maecar Lagdamen
Prosecution Attorneys: Kristel Danan and Chyenne Ward
Defense Witnesses: Nick Marin (Charlie Quinn), Vivian DeLaPaz (Kal Simpson), and Juan Daniel Lotero (Doctor Mel)
Prosecution Witnesses: Domenica Solis (Officer Murray), Karina Flores (Lew Olden), Jasmin Marrero (Lew Olden), and Vivian DeLaPaz (Doctor Carlin)
Backup Members: Samuel Ferrer
Adviser: Mr. Tuttle
About the Contributor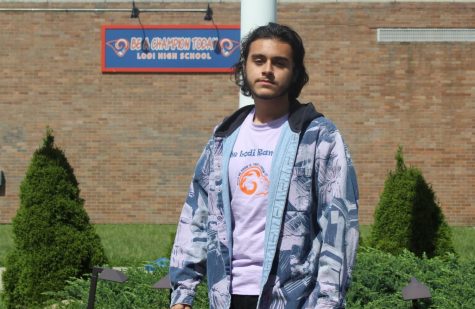 Nick Marin, Editor
Q: If you could have dinner with one person, dead or alive, who would it be and what would you talk about?

A: I would love to speak to Marilyn Monroe....