The Dynasty of the Lodi Rams
The Varsity football team's season sadly came to an end, as they had a tough loss on a cold gravy night, under the lights, against Riverdell. However, instead of seeing a tears, I saw many smiles. The 2015 seniors definitely had something to be proud of. Although they lost, they had 4 successful years as a football program at Lodi High School. There were many ups and downs in this journey. Senior quarterback, John Calabrese, missed a whole year of football and made an amazing comeback. Former quarterback, Emmanuel Appiah, transferred to Bergen Catholic. Starting Wide Receiver, David Acevedo, shattered the school record for most receptions and receiving yards. Joey Paladino goes from starting center to tight end. Moe Zaal made the switch from fullback to center. West Virginia transfer, Dante McCaroll, stepped up and had a huge impact on the Rams defense. Monsters Bryan Roth and Matt Leto are arguably the best lineman in the league. We can't forget speedster Jesse Asare, who led the Rams with 1300 rushing yards! Also, seniors Kevin Mahon, Javier Bustos, Javier Lopez, Aaron Bell, Mike Wilson, Adam Petrillo, Devin Robertson, Aldo Nurce, Dennys Gallardo, Justin Germinario and Ameen Maultsby had amazing contributions to this team for the last four years. These seniors came into high school as young freshman who were excited to play high school football and now they are all glad to have been part of something as special as this team. These seniors will leave high school with memories that will last forever. Now it's up to Steven Villa, Cole Villacias and the rest of the current juniors to continue the dynasty of the Lodi Rams!
About the Writer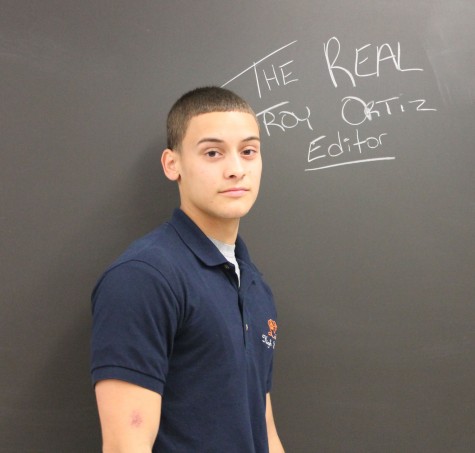 Troy Ortiz, Editor
Q: What are your hobbies?

A: Baseball, eating, working out, and hanging out with Joey.

Q: What do you plan to do after high school?

A: Go to college...