Book Review: Holly Jackson's "A Good Girl's Guide to Murder"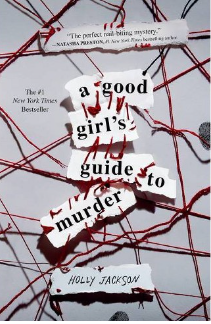 MURDER MYSTERIES TYPICALLY HAVE TWO THINGS: a clear victim and a potential suspect within the first five chapters. Authors such as Agatha Christie, Steige Larrson, Arthur Doyel and many others alike have all given mystery to literature in different plots and settings.  However, Holly Jackson delivers a piece of mystery fiction that breaks the pattern of a classic "Who done it?"  and takes readers on a whirlwind of a journey that has readers craving to turn pages. 
     Jackson begins her story with the case of a missing girl, Andie Bell. Her casequickly turns into a possible murder-suicide when her boyfriend, Salil Singh, supposingly kills himself after admitting to having some connection to the disappearance of Andie. Five years later, the case now considered cold and closed, a seventeen year old girl named Pippa Fitz-Amobi revisits the investigation for a project she has to do and with a theory of her own – Sal didn't do it. After looking into the case, Pippa (also known as Pip) breaks her only rule and ends up digging deeper with Ravi Singh, Sal's brother, and enter a world of murder and mystery..Together, they go through evidence, both old and new, interviews, and possible suspects. From old friends keeping secrets and alibis not adding up, to Andie's unsuspecting past and a mysterious tail on Pip, they have to work quickly to figure out what actually happened the night of Andie Bell's disappearance along with the who and why. 
With all the twists and turns, one fact is apparent : Everyone is a suspect. 
While many readers find mystery cases to be long and complicated, Jackson's story differs. As readers follow Pip (and Ravi's) investigation during short and succinct chapters, they can also enjoy pictures and logs along with interviews that Jackson incorporates, making them a part of the plot as well. The storyline is a perfectly paced story and filled with touches of humor, suspense, tension and even a bit of romance Themes such as racial prejudices against characters is prominent as Jackson divulges into the all too true real realities for many people of color  
A Good Girl's Guide to Murder is the first in Holly Jackson's trilogy along with Good Girl, Bad Blood and As Good as Dead which all follow Pip, Ravi and many other characters readers come to know and love. Whichever course these books take, readers can be assured of a mind-blowing and unsuspecting ending to the case…if there is one.