Hocus Pocus 2 Review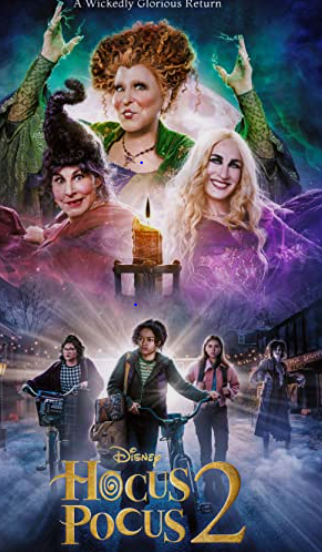 Anne Fletcher, director of Hocus Pocus 2, takes fans back to 1993 with a sequel of Hocus Pocus. After 29 years, viewers' three favorite witches, Winifred, Sarah, and Mary, return to cause some chaos! The Sanderson sisters are seeking revenge after an accidental resurrection in Salem and it's up to three friends, Becca, Cassie, and Izzy, to put a stop to them before dawn on All Hallow's Eve.
This sequel begins with a flashback to the witches' childhood providing the backstory on their origin as witches. The next scene shifts to the conflict between the three new characters played by Whitney Peak, Lilia Buckingham, and Belissa Escobedo. The plot escalates on Becca's birthday when she goes to Salem's "Olde Magic Shoppe" and gets a black flame candle for her annual ritual in the woods. With this ritual, Becca and Izzy accidentally bring the Sanderson sisters back to life. The ominous vibe, along with the fear of the girls, tied the scene together.
A fan favorite moment takes place when Becca discovers she has powers and the trio reunites. The girls are after the witches, until the unexpected happens and two main characters vanish. The remaining characters team up in an attempt to reunite the third member of the group. The actresses portrayed their roles as teenagers really well. The young actresses being 19 and 24 definitely allowed them to portray the true feelings of teenagers on screen because of how young they are. The fear, confusion, worry, and perseverance all seemed genuine. Their emotions were believable and weren't cheesy, unlike other movies with teenagers.
The story ends on a sentimental note with the friends strengthening their bond and the sisters reconnecting. However, the end credits scene hints at the fact that there may be another movie coming. Another black flame candle was found in the storage room of the "Olde Magic Shoppe." This leads us to wonder what will happen to the sisters? What will happen to the girls and what will they do if the sisters come back?
The movie had a familiar atmosphere, while still keeping the story interesting with plenty of new ideas. This includes the costumes; there were many new trends, especially with the younger characters, while still keeping the tendencies of the original, when it came to the witches. The soundtrack had a wide variety including new songs, a cover of a popular song, and other songs that kept the main theme of the original movie. Overall, the movie has more modernized touches, but still keeps the feeling of the original movie.