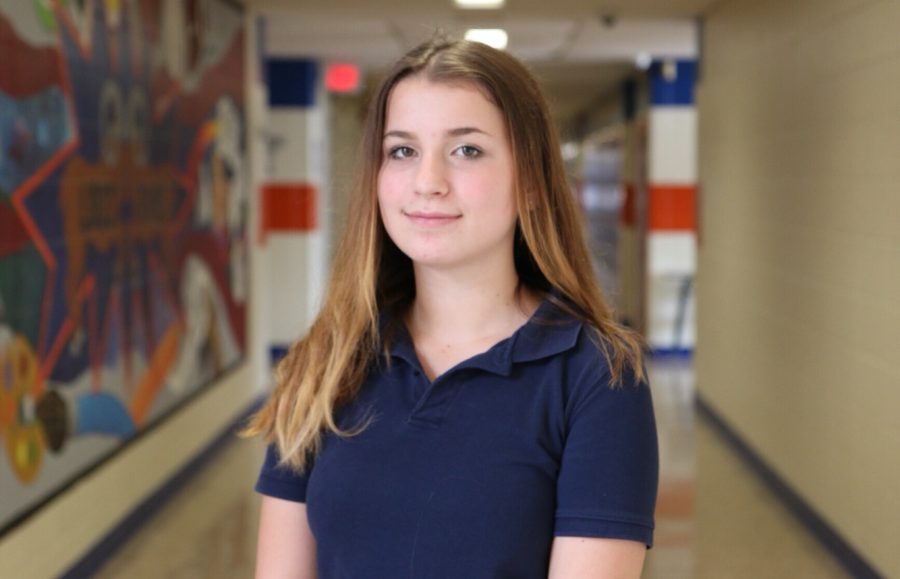 Q: What do you like about Lodi High School?
A: Mikela loves the diversity of LHS, and she appreciates the many clubs and choices LHS has to offer
Q: How would you describe yourself in and out of school? A: 
Mikela loves her friends, and is a kind student. She is in her junior year.
Q: Who inspires you?
A: Mikela's parents inspire her. She looks up to them.
Q: What do you look to get out of High School?
  A: 
Mikela looks to ultimately get her education here, but that is not all. In her remaining years as an upperclass student, she seeks to make memories and enjoy the high school experience.
Q: How do you feel you can improve?
A: 
In her junior year, she wants to conduct her work in an orderly and on time fashion.
Q: What makes you different from your other classmates?
 A: 
Mikela is an avid reader, and she also loves to draw and paint.
Interviewed by Justin Clancy
Mikela Lickollari, Author
Jun 20, 2018

Senior Linkage: Class of 2018

(Story)

May 31, 2018

Senior Trip 2018 at Pocono Valley

(Story)

Apr 19, 2018

Painting the Steps to Success

(Story)

Mar 27, 2018
Mar 08, 2018
Feb 13, 2018

Is Chivalry Dead?

(Story)

Dec 21, 2017

Taste of the World

(Story)

Dec 20, 2017

A Look Into the Future: Eighth Grade Open House

(Story)

Nov 21, 2017

Here's to Senior Year: Fall Sports

(Story)

Nov 21, 2017

Tickets of Kindness

(Story)

Oct 19, 2017

A Champion's Plate

(Story)

Oct 05, 2017
Oct 05, 2017

What's in your Sports Bag?

(Media)

Oct 05, 2017

Kindness is Contagious

(Story)

Sep 21, 2017

Heading Their Way to the Top

(Story)

Sep 21, 2017

Bump, Set, Spike!

(Story)

Sep 21, 2017

Goodbye to a Lodi Rams' Champion

(Media)

Sep 20, 2017
Jun 21, 2017

A New Chapter Begins

(Story)

Jun 13, 2017
May 19, 2017

A Day in the Life of Mrs. Perez

(Story)

May 19, 2017

A Day in the Life of Mr. Castro

(Story)

May 05, 2017

The Day in the Life of Dave Pascual

(Story)

May 05, 2017

A Day in the Life of Emely Ocampo

(Story)

Apr 13, 2017

A Day in the Life of Shivangi Mistry

(Story)

Apr 13, 2017

A Day in the Life of Elizabeth Haddad

(Story)

Mar 30, 2017

A Day in the Life of Melissa Maldonado and David Maldonado

(Story)

Mar 30, 2017

A Day in the Life of Tony Rodrigues and Kaitlynn Rodrigues

(Story)

Mar 09, 2017

A Day in the of Alexandra Canario: A Future Airman

(Story)

Mar 09, 2017

A Day in the Life of Jacob Fallon: A Future Marine

(Story)

Feb 14, 2017

A Day in the of Deborah Coellar

(Story)

Feb 14, 2017

A Day in the Life of Kevin Tailor

(Story)

Feb 14, 2017

A Day in the Life of Rochelle Hernandez

(Story)

Feb 14, 2017

A Day in the Life of Jason Lambe 

(Story)

Feb 14, 2017

Are You From Tennessee?

(Media)

Jan 19, 2017

A Day in the Life: Students of LHS

(Story/Media)

Jan 06, 2017

A Taste of the World in LHS

(Story)

Dec 23, 2016

New Year, New Resolutions

(Story)

Nov 23, 2016

A Time to Give Thanks

(Story)

Nov 10, 2016

A Day in the Life of Anthony Samaniego

(Story)

Nov 10, 2016

A Day in the Life of Manreet Kaur

(Story)

Oct 31, 2016

A Day in the Life of SpongeBob and Patrick

(Story)

Oct 31, 2016

A Day in the Life of a Skeleton

(Story)

Oct 13, 2016

A Day in the Life of Elijah McCarthy

(Story)

Oct 13, 2016

A Day in the Life of Yasmin Elfeky

(Story)

Sep 29, 2016

A Day in the Life of Foti Vesho

(Story)

Sep 29, 2016

A Day in the Life of Enedja Zeqollari

(Story)

Sep 18, 2016

A Day in the Life of Paulette Gando

(Story)

Sep 18, 2016

A Day in the Life of Brandon Coba

(Story)