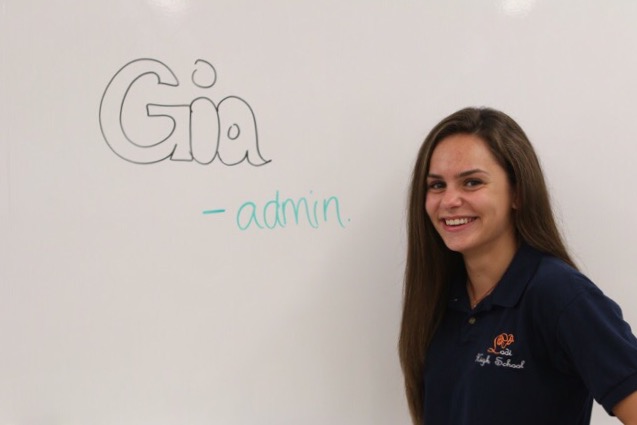 Q: If you could be any type of animal, which animal would you be and why?
A: If I could be any type of animal I would be a chameleon because they can change the color of their skin allowing them to blend in or stand out as much as they choose.
Q: What do you do in your free time (outside of school)?
A: In my free time I'm usually with my friends, or watching Netflix, or watching Netflix with my friends.
Q: How would you describe yourself in five words?
A: Five words I would choose to describe myself are: creative, loyal, positive, ambitious, and compassionate
Gia Manno, admin
Jun 23, 2017
Jun 20, 2017

Seniors Say Goodbye

(Story)

Jun 20, 2017

LHS Teachers' Last Lesson

(Story)

May 05, 2017

Teacher/Student College Connections

(Story)

May 05, 2017

National Principals' Day Appreciation

(Story)

Apr 24, 2017

Coffee and a Show

(Story)

Apr 13, 2017

Ms. Yzquierdo: For All You Do, We Appreciate You!

(Media)

Mar 30, 2017

A Perfect Fairytale Ending

(Story)

Mar 09, 2017

Loud and Proud: Lodi Cheerleading

(Story)

Feb 14, 2017

Crushin' on Celebrities

(Story)

Feb 14, 2017
Dec 23, 2016

Singin' with Snoop Dogg

(Story)

Dec 23, 2016

12th Day of Christmas

(Story)

Dec 19, 2016

Eighth Day of Christmas

(Story)

Dec 18, 2016

Seventh Day of Christmas

(Story)

Dec 15, 2016

Fourth Day of Christmas

(Story)

Dec 14, 2016

Sixth Day of Christmas

(Story)

Dec 13, 2016

The Second Day of Christmas

(Story)

Dec 11, 2016

The First Day of Christmas

(Story)

Nov 23, 2016

NHS Thanksgiving Baskets

(Story)

Nov 10, 2016

The Decision is Made!

(Story)

Oct 31, 2016

Haunted High School

(Story)

Oct 30, 2016

A Night Under the Lights

(Story)

Oct 13, 2016

Student Council in the Cut

(Story)

Sep 18, 2016

Tis' the Fall Sports Season

(Story)

Jun 22, 2016

I Guess It's Time To Say Goodbye…

(Story)

Jun 19, 2016

Seniors: One Last Goodbye

(Story)

Jun 05, 2016
Jun 05, 2016
May 19, 2016

Let's Tie Things Up!

(Story)

May 08, 2016

Pre-Graduation Checklist

(Story)

May 08, 2016

Touchdown for Student Gov.

(Story)

Apr 22, 2016

The Last Coffee House

(Story)

Apr 21, 2016
Mar 31, 2016

RU Ready for the Business World?

(Story)

Mar 30, 2016
Mar 17, 2016

Blasting to the Top!

(Story)

Mar 03, 2016
Mar 03, 2016

Cookin' Up Crêpes

(Story)

Feb 11, 2016

Playing Games to Change Lives

(Story)

Feb 11, 2016

It's Not Just A Date

(Story)

Jan 31, 2016
Jan 14, 2016
Jan 14, 2016

Spreading Positivity

(Story)

Jan 14, 2016

Freshmen Find Their Wings

(Story)

Dec 22, 2015

The Big Gift of Christmas

(Story)

Dec 22, 2015
Dec 10, 2015
Dec 10, 2015

Wrapping Up Domestic Violence

(Story)

Nov 24, 2015
Nov 24, 2015

What Are You Thankful For?

(Story)

Nov 15, 2015

Rams Go to College

(Story)

Nov 15, 2015

A Little Party Never Killed Nobody

(Story)

Oct 30, 2015

The Return of the Haunted House

(Story)

Oct 30, 2015

May the Moles be with You

(Story)

Oct 15, 2015
Oct 15, 2015

Cheers to High School Years

(Story)

Oct 01, 2015

Student Gov: The Votes are In!

(Story)

Oct 01, 2015

The Bookworms of LHS

(Story)

Oct 01, 2015

A Council that Works for You

(Story)

Sep 18, 2015

Rams Bringing the Pride Outside

(Story)

Sep 16, 2015