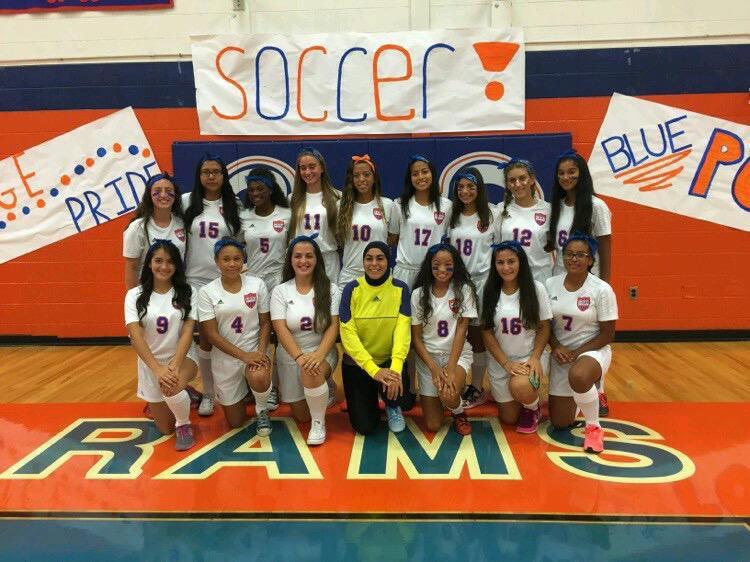 The fall season is engulfed in a myriad of different emotions for all of the sports teams in LHS. For the Girls Varsity Soccer team, despite losing 11 seniors, optimism and excitement definitely top the list of these emotions. After starting off the season already with a 1-1 record, losing against Eastern Christian and winning against Garfield, there are plenty of ways the season may unfold for the Lady Rams. When asked about his expectations for the upcoming season, Coach Noordeloos stated in his interview with the Rampage, "I don't like to lose." He hopes to light a fire under his team this year to approach and potentially even surpass the .500 mark in wins.
Being the only senior on the team, Captain Liliann Vizcaino has a lot on her plate. When asked about how she would handle the pressure, she seemed cool and confident. This being her second year as captain, it is evident that she portrays natural leadership qualities and hopes to be a role model for her teammates. With five new freshmen playing Varsity, the task of assimilating them to the play style is not going to be easy, but the Lady Rams are up to the task. Some players to watch out for this season along with Liliann are Kathy Villanueva and Kayla Oakley. As Coach Noordeloos himself said, "The girls love the support…they're very easy to root for and when people are cheering them on, it warms my heart…" Keep playing hard Lady Rams and Lodi High School will continue to cheer you on. Best of luck this season!

The Lodi Rampage met with Coach Noordeloos to ask a couple of questions about the team itself and how he thinks the season will turn out.


The Lodi Rampage met with Senior Captain Liliann Vizcaino to discuss her outlook on the season; along with how the team will adapt to losing 11 seniors.