How to Support Small Black-Owned Businesses
As you may know, the start of February means the start of Black History Month! This is a very monumental and special month where we get to honor and remember the important people and events in black history. As history tells, African Americans have been suppressed and discriminated against, for centuries. This is why it is so crucial in the day and age in which we are living in to continue to progress in society and rid society of the marginalization of African Americans. A small part of this, lies in supporting the hardworking black people out there who are creating businesses for themselves. It is so important that we start supporting small black-owned businesses, not only because they deserve it, but because in doing so we are supporting unification. There are so many positive reasons to support black-owned businesses including: closing the racial wealth gap, strengthening local economies, fostering job creations, and  celebrating black culture. Beyond physically going to these small stores and shops, we can also advocate for these businesses by posting them on social media and spreading their names by word of mouth. So, if you are interested in getting out there and supporting these businesses, please feel free to check out some of the places listed below!
List of Small Black-Owned Restaurants:
Paula's Soul Food Cafe, located in Hackensack
Maggie's Southern Kitchen, located in Teaneck
Bradley Bake Shop, located in Bogota
Jerk'd Caribbean Kitchen, located in Hackensack
Cafe Mombay, located in Bloomfield
Lili's Carribean Cuisine, located in Englewood
Bro-Ritos, located in Hackensack
Gab Eats, in Hackensack
Light Rail Cafe, located in Jersey City
Urban Burger, located in Cranford
List of Small Black-Owned Shops:
Artistry by Bonnie, located in Clifton (make-up artist)
Angel Lite Production, located in Linden (Photographer)
Elan by Uri, located in Somerset (unique home decor store)
Fitness Fast Team USA, located in Newark (fitness based gym)
Harmony Dance center, located in Union (dance studio)
Kika Stretch Studios, located in Montclair, Westfield, Summit, and Shorthills (stretching studio)
Ikuzi Dolls, located in Montclair (handmade, authentic black dolls)
LaDi, located in Saddle Brook (maternity clothes)
Morgan Contractors, located in Montville (constructions & design company)
Pooka Pure & Simple, located in Kearny and online (all natural bath & body projects)
In case you are interested in learning more, here are some links to visit to view more small black-owned businesses!
About the Contributor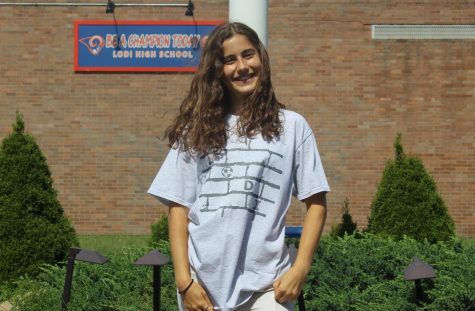 Brooke Scarcella, Writer
Q: What expectations/goals do you have for this school year?

A: I expect to do a lot of the fun things you get to do in senior year, and my goals are...