It's a Quarantine Halloween!
Spooky decorations are spread across the vast lawns of the dainty streets of Lodi and the sun begins to go down around 5 o'clock. The air is getting to be a little crisper and the breeze is picking up; sweater weather is among us. Everyone is waiting for the exciting day that is approaching and only comes once a year. Teens set up camp on their couches and amuse themselves with the thrill of horrifying movies and those who want to test their creativity go out and make their best costumes. 'Tis the time to get a good scare and eat tons of sweets until your tummy aches. However, under the circumstances we are living through at this time you may be feeling like this holiday just won't be the same or that all of the fun has been sucked out of October. BUT, we are here to tell you that this is not how it has to be! Here are some ways to keep this Halloween upbeat and interesting:
Have a full-on Halloween movie marathon binge with your friends! Of course, for safety, only do this in groups of up to eight people indoors. Halloween is on the weekend this year; so, use this to you advantage and camp out inside with tons of movies and treats. Movie recommendations include: Psycho, Halloween, Hocus Pocus, Scream, Get Out, Beetlejuice, Carrie, Ghostbusters, The Exorcist, Paranormal Activity, Halloweentown, The Nightmare Before Christmas, The Shining, Us, The Conjuring, Sinister, The Orphan, It, The Addam's Family, Nightmare on Elm Street, or Invisible Man!
You don't have to feel bummed about not being able to go out Trick-or-Treating! Many places are doing safer trunk-or-treats for younger children. BUT, a beautiful option could simply be to ask your parents to get a nice hefty bag of Halloween candy from Costco/BJ's or the local grocery store to snack on instead!
Don't forget about good ol' pumpkin carving! Although things may seem very unusual this holiday, pumpkin picking and carving are still a super enjoyable activities that can bring you more memories with friends or family while also helping to keep you in the spirit! Look up elaborate designs on Pinterest for carving or even purchase some cheap stencils to use.
Dress it up! We may not be going into school in our costumes and having a more relaxed festive school day, but this does not mean we cannot get dressed up in costumes at home. An entertaining way to spend your Halloween this year could be to just dress up with some friends and take photos. Create a group costume idea or best friend costume idea and just have a little photo shoot for the Instagram stories (we know you all do it!).
While it is important that we keep the streets of Lodi safe and the citizens healthy this Halloween, that does not mean that it can't be enjoyable. Go have fun with your friends and make the best of it; just please make smart decisions!
About the Contributor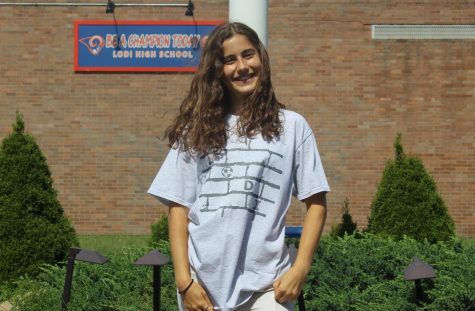 Brooke Scarcella, Writer
Q: What expectations/goals do you have for this school year?

A: I expect to do a lot of the fun things you get to do in senior year, and my goals are...