Halloween on the Cheap
As the Halloween season rolls around, many are left wondering how to get festive for the occasion. It is tough when you are stuck with throw away arts and crafts material and an almost non existent budget. Luckily for you, the Lodi Rampage has conjured up four cheap and fun ideas for the Halloween season. In no time, you will be ready for the holiday season with plenty of enticing snacks and decorative props.
MATERIALS:
Black Paper
Scissors
Tape
Googly Eyes
A Glue Stick
Orange Candy Melts
Pretzels
Green M&M's
A package of Little Bites
Gummy Worms
A Plastic Cup
Green Sprinkles
White Chalk
The Rampage Staff was able to achieve every DIY idea with a budget of under $15.
GRAVEYARD IN A CUP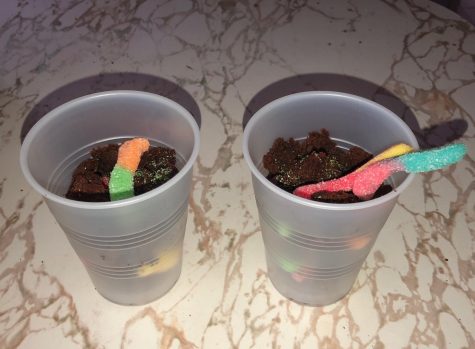 Step 1. Grab a plastic up, a couple of gummy worms, and a bag of Little Bites Brownies.
Step 2. Put one brownie in a cup. Then, put in one to two gummy worms. Repeat this two more times.
Step 3. After the last set of gummies, put in one last brownie, but crumble it this time. Then, sprinkle that final layer with green sprinkles. This will give off the appearance of dirt and grass.
Step 4. For dramatic effect, add a worm or two crawling out of the cup.
Step 5. Serve to guests!
CAT HANDS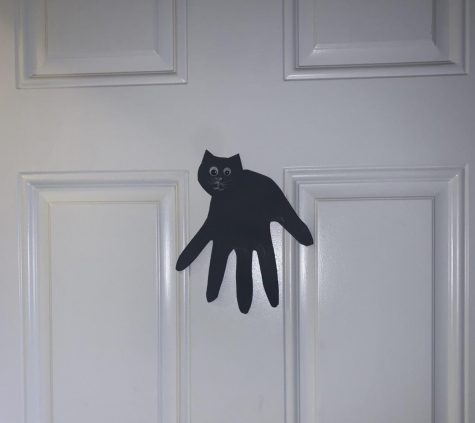 Step 1. Grab black paper, chalk, scissors, googly eyes, glue, and tape.
Step 2. Trace your hand on the paper with Chalk.
Step 3. Cut out the traced hand.
Step 4. Draw the outline of a cat's head on the paper.
Step 5. Cut out cat head.
Step 6. Hold the hand cut out upside down, and glue the cat's head to the top left of the palm.
Step 7. Glue googly eyes to the cat's head.
Step 8. Draw a nose, smile, and whiskers onto the cat head with chalk.
Step 9. If desired, tape final product to your door!
SPOOKY SPIDER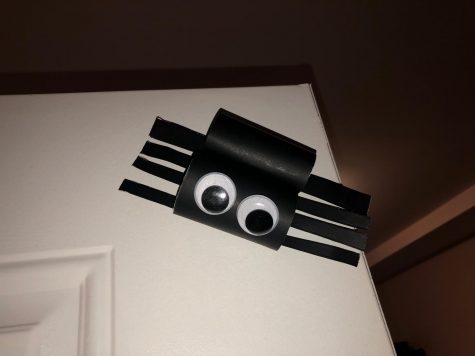 Step 1. Gather the following materials: Black paper, Googly eyes, Scissors, Tape, Ruler, Chalk, and Glue.
Step 2. Cut a thick strip of black paper. Measure nine inches with a ruler as that should be the length of the strip. Use chalk to trace a straight line down the black paper, and then proceed to cut.
Step 3. Cut the strip into halves, with one side being slightly longer than the other.
Step 4. Curl the two strips into loops and tape their insides. The tape should hold the strips in said position.
Step 5. Cut a thick strip six inches in width. Cut it into equal halves. This should create two squares which will be used as bases for the spider. You can use a ruler and chalk to make a straight line and measure.
Step 6. Create four skinny and lengthy strips of paper. These will be used as legs. Length will vary on how long you desire the legs to be.
Step 7. Glue down all four leg strips onto one of the square bases (as described in Step 5). Then, glue the second square base onto the square with the legs.
Step 8. Create a loop of tape the length of the square base. Then, place this tape onto the second square base. This will allow you to place the loops of black paper onto the body.
Step 9. Place the loops of black paper onto tape loop.
Step 10. Glue googly eyes onto the larger loop of black paper. This will act as the head of the spider.
Step 11. As a finishing touch, tape the finished product to your door!
PUMPKIN PRETZELS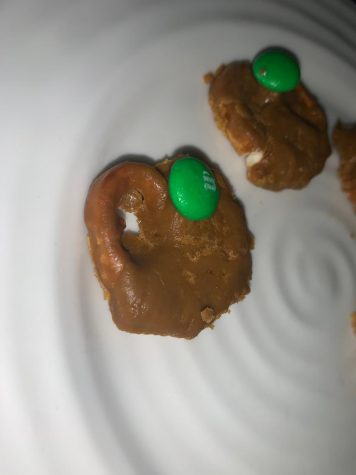 Step 1. Grab orange candy melts, some pretzels, and an M&M's bag.
Step 2. Place candy melts into a bowl and microwave (Time depends on your microwave).
Step 3. After the candy melts, marinate your pretzels with them.
Step 4. Directly afterwards, open your M&M bag and find a green M&M. Place it on the tops of your pretzels.
Step 5. Place tray of pretzels in freezer for them to cool off. The longer the time in freezer, the better the final product will be.
Step 6. Serve to guests!
Go out and try some of the Lodi Rampage's Halloween DIY ideas!