Put Some Pep in Your Step this Fall!
On Sept. 6, Lodi High School presented its first Pep Rally of the '19-'20 school year. Athletes of varying sports were rallied up and celebrated for the efforts they put in during their season. The crowd watched intently as the Boy's Soccer Team, Football Team, and many other sports teams made appearances in the assembly. The Cheer Team also performed for the crowd multiple times, never failing to impress with their well rehearsed cheer routines. The seniors in each sport were also highlighted throughout the assembly, as this will be one of their last pep rallies. In appreciation for the soon-to-be graduating athletes, the seniors for each sport are listed below. As lights go out on the field for this year's fall pep rally, the spirit of the sports season remains prevalent. Show some support for these teams this season!
Girls Soccer
Joanna Salgado
Diane Diaz
Olivia Russo
Anna Sancilio
Brielle Roberts
Cierra Roberts
Natalie Perra
Kayla O' Hare
Kayla Dingle
Julianna Motta
Sarah Green
Sam Guitierrez
Camilla Diaz
Sofia Rojas
---
Boys Soccer 
Sebastian Velasquez
Jean Paul Castellanos
Johnathan Arias
Victor Rengifo
Bryant Adames
John Nemri
Khaled Abdelmigeed
Ryan Toalongo
James Garcia
---
Girls Tennis:
Maria Viedman
Natalie Romero
Kristel Danan
Danielle Gould
Huda Zenhom
Maecar Ella Lagdamen
Olivia Celestine
---
Football
Jordan Gomez
Christopher Diaz
Bryan Catala
Johnny Melucci
Samuel Chiriboga
Armando Alvarez
Jason Nunez
Gabriel Herrera
Sheryaar Farooq
Anthony Francis
---
Volleyball
Catharina Campos Miranda
Laura Morato
 Patricia Rodriguez
Madelyn Carrascoza
---
Cheerleading
Michelle Guerra
Alex Rodriguez
Kylie Bernardo
Leanne Chamberlan
Marissa Roman
Samantha Hernandez
Julissa Guerrero
Khiara Ullon
Emily Baquero
About the Writer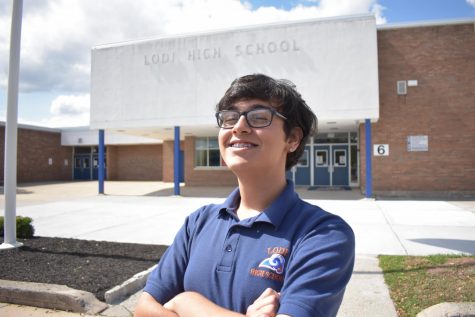 Nick Marin, Writer
Q: What is it like for you being on stage?

A: It's honestly really liberating because for some reason large crowds don't scare me and it gives me...