It Takes a Big Heart to Shape Growing Minds
Teachers play a critical role in educating and shaping our children, the future leaders of our country.  They are kind, patient, hard-working, dedicated, and understanding professionals who try to mold our children's lives in a positive way. Even with all that they do, teachers in the U.S.  are criticized constantly because they have summers off and have been known to be unhappy with their salaries. Typically, in the U.S. people aren't encouraged to even become teachers because some consider it a laughable and stressful job. However, in other countries teachers are ranked the highest respected profession… even higher than or equivalent to a doctor. It makes no sense to me that the people who have been entrusted with the intellectual and social development of the young minds of America are so blatantly demonized.
The point many people do not understand is that teaching is HARD. It may not require the physical strength of an electrician or the dexterity of a neurosurgeon but it does require a plethora of knowledge and continuous dedication in order to teach students –and not just any students. There are students who need inspiration and motivation; students who go home to an unhealthy family dynamic; students who have anger management issues, or learning disabilities, or physical challenges –and there are 20-30 students per class with all different abilities and personalities and attitudes. A good teacher must balance being an expert in his/her subject, a motivator, mediator, and even a social worker all at once every day. So why is it that the starting salary of a teacher is so low? When we undervalue a profession, we also tell the next generation of bright educators they shouldn't bother teaching—or that if they do, they must take a vow of poverty. Examples of such financial stress and strain can be found in every state in the country; quality teachers are walking away from the profession, and salaries are part of the reason they leave.
Teachers also face school boards, administrators, and politicians who are determined to evaluate their effectiveness through a standardized test of their students which doesn't not even apply to what they learn throughout the year. Are there "bad" teachers? Of course, but in my experience I've only witnessed a handful and the rest actually influenced my desire to learn and have made school enjoyable. All the good teachers I have had, all have a love for kids, love of their subject, a work ethic that doesn't quit and, most importantly, a passion for teaching. Students tend to blame their teachers often, but unless they are actually not doing their job, students in the U.S. should be be grateful to be able to have a decent public education when there are so many kids around the world who can't afford school or cannot continue or further their education in order to help provide for their families. Mrs. Kushkuley, an LHS math teacher, expressed that "The biggest reward teachers can get is to see their students grow into successful and productive members of society. So please, come back to visit and share your success stories. Seeing my former students accomplishments give me energy to continue." After all, it does not matter if you want to be a lawyer, engineer, or doctor, you need an expert in that field to teach you in order to become the professional you want to be. So instead of diminishing teachers, why not begin to treat them as professionals and give them the respect they deserve?
National Teacher Appreciation Day is observed on the Tuesday of the first full week in May.  In 2017, National Teacher Day will take place on May 9. It is time to say "Thank You" to the special teachers that you know.  Let them know that they are appreciated for all that they do. Use #TeacherAppreciationDay to post on social media.
About the Contributor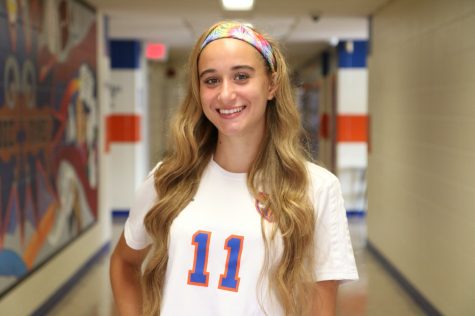 Amanda Najbar, Editor
Q:What are three words you would use to describe yourself? A:Amanda describes herself as an open minded, creative, and positive person.

Q:What do you...